This play dates from the 1890s: in what sense can it be considered a modern play? To what extent does it speak to us now? What aspects of the play can be found in contemporary society--or is it largely a museum piece? What would need to change if a comparable play were written to address current circumstances?
Hedda Gabler, by Henrik Ibsen, was written in the 1890s, during the time when modern theater was emerging. Modern drama usually included subjects that challenged the audiences, "being controversial became the very condition for being modern" (Gainor 60). Like other modern plays, it challenges the audience with moral problems and dilemmas of the time. One problem is a class relationship and another is marriage, including the fidelity within it. Similar to his play A Doll House, Hedda Gabler focuses on the hypocrisy and inequality of the Victorian marriage, occurring at this time. Another feature in Ibsen's writing is the focus on social and psychological issues, seen through all the characters as Hedda manipulates them. Ibsen's plays are founded in the realism that was juxtaposed with modern drama.
Diana Rigg as the title character (found by searching title in Google Images)
The play speaks to its current audience by showing the complexities of the middle class characters in the play. It also depicts the realism in Victorian marriages during the time. Ibsen shows the wants and desires of the characters along with the destructive effects of trying to attain them. The play also displays a picture of society during Ibsen's time.
Hedda Gabler and Judge Brack by Alley Theatre. (Found through Google Images)
Aspects of the play can be found in modern society while still holding elements of a removed society. In any society there will be problems within a marriage. Hedda Gabler illustrates Hedda's unhappiness in her marriage, Judge Brack's interest in Hedda, and Mrs. Elvsted's running away from the sheriff to Eilert Løveborg. Also, it is not uncommon to see women who feel trapped in their marriage, like Hedda does and Mrs. Elvsted did. In addition to these aspects is the idea of there always being a person who is manipulative in society; in the play it is Hedda, though Judge Brack tries to hold power over her. Along with these, the play also illustrates the exasperation of Løveborg at having lost his reputation (again) and his manuscript. The feelings he displays would still be felt by people in today's society. The play still speaks to the psychological and moral aspects from the 1890s to now.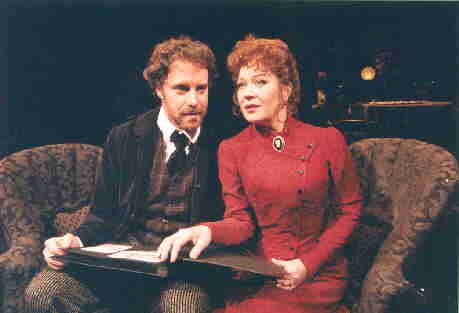 Alley Theatre's Hedda Gabler and Eilert Loveborg. (Found through Google Images)
If a comparable play were written today to address current circumstances, several changes would need to be made. Most writers back their manuscripts up on the computer and other drives, so the writer would need to explain how the only copy got ruined. Even if it is simply by stating that Løveborg preferred writing by hand. Another would be why Hedda did not decide to remain unmarried, as it is now acceptable for a woman to not married. In this case, she probably wound not have married someone she did not love. She would have either remained single or married someone else. Another aspect to change would be the issue of evidence after Løveborg's death such as-- DNA, gunshot residue, and that guns have to be registered (important for determining the murder and others involved).
A playbill from American Airlines Theatre 's revival of the play. (Found by searching title in Google Images)
Gainor, J. Ellen. "Introduction." The Norton Anthology of Drama. Vol. 2. New York: W.W. Norton & Co, 2009.